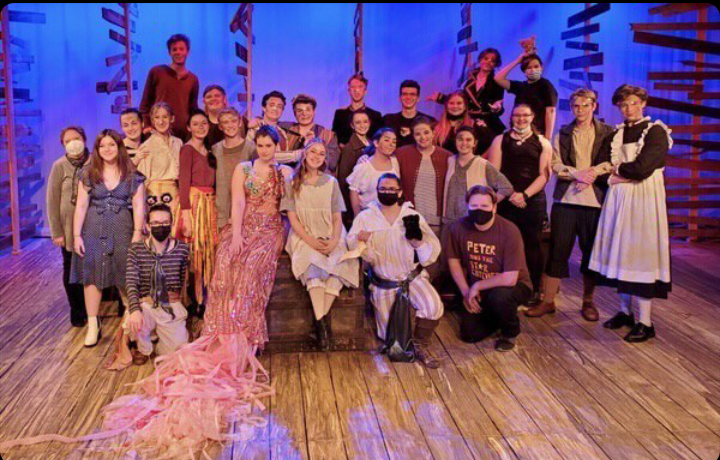 Jen
Peter and the Starcatcher is the origin story of Peter Pan. It started showing on November 18th, and it went on till Sunday, the 21st of November. It's an Ensemble show, so everyone has a named role, but the ones who had the most lines were Spence Cheney, Courtney Bennet, Andrew Shroeder, and Bailey Lowry. Peyton Hull, a senior at Barlow, also starred in the show and played Fighting Prawn, who loves pasta dishes. "I am very excited! It's come a long way, and it was quite a challenge, but it was so worth it." Hull says about play. 
Kylee Edgerly, a senior at Barlow, was one of the students to see Peter and Starcatcher. She went to see it on opening night, and she loved it. "It was super well done, and I could tell that everyone in the production worked really hard," Edgerly says. The play was amusing, and it often had Edgerly laughing out loud. One of her favorite parts of the play was the mermaid scene, with the whole cast involved. "I think the message of the play was the importance of family and friends."
Parker Williams was another student who went to see the show, he enjoyed it. "I was messed with a lot during the play by the cast because I knew so many of them. This made me a little anxious about what they'd do next, but it was all enjoyable and entertaining," Williams explains. Toby Neighorn was also a part of the play. While playing the nanny, every scene that Neighorn did was Williams' favorite because he was an outstanding actor. He portrayed his character well and had William laughing the whole time. 
Paul Nickolas, Barlow's Band Director, was one of the staff members who went to see the show at the staff preview night. Nickolas loved it. As he was watching it, he felt so thankful to be able to watch a live performance. "Seeing the obvious passion and joy on the faces of the performers that have been missing during the last year and a half was amazing. Not all schools are allowing in-person performances yet, so the fact that we can't is great," Nickolas says. Getting to see the performance in the new black box theater was one of Nickolas's favorite parts. Being up close with the characters made the experience so different for him than in the auditorium. Nickolas went on to say, "the show itself speaks to me or being proud of who you are. Peter Pan in the show is on the road to self-discovery. Being comfortable with who you are is a theme that thankfully has been so much more present in culture over the last number of years. How well females played male roles and vice versa in this production added to this as well." 
Anita Lamoureux, Barlows Business teacher and the person who runs the Den was also in the audience watching the play on the evening before it opened, which was their last dress rehearsal. Lamoureux found the students exceptionally rehearsed and professional. While watching this play made Lamoureux cry, and laugh. It made her feel lots of emotions. It was fun to watch for her and sometimes it made her feel like she was a part of the production. "Watching this made me think about my own need for belonging to a community and friends. We are not alone in that need, and this story really relies on the importance of this human connection." Lamoureux says. 
Peter and the StarCatcher was an excellent show that everyone who went enjoyed. It makes them laugh and even anxious. While watching it, they also learned something, and it made them see things differently.