A bittersweet goodbye for our district
It's been recently announced that our incredible superintendent of the Gresham-Barlow School District, Dr. Katrise Perera, will be departing after this school year to transfer to a district in Texas.
"I think if COVID has taught me nothing else, it's taught me that what I miss most in my life is my family. 99% of my family lives in Louisiana and Texas and although I've always lived away, I've been able to visit, but COVID has been obviously hard with travel," said Dr. Perera.
Without the accessibility of easy access to traveling across the country, Dr. Perera hasn't had the opportunity to be with family in times of need especially throughout this last year as some personal things occurred. Realizing her priorities, Dr. Perera announced that she will be released from her tenure earlier and transfer to superintendency at Lancaster in South Dallas, Texas. 
"A few goals for this new job are a smooth transition and keeping things going in the right direction. The trajectory is the trajectory, there's some unfinished business and unfinished learning that has to take place so making sure there are the right resources and people in place for students," emphasized Dr. Perera.
Striving to leave the Gresham-Barlow school district with a smooth transition for herself and the future superintendent, Dr. Perera establishes some resources within her leadership team and staff to ensure student success.
"The silver lining is the students now attending high schools have truly only been in a physical high school as a freshman which allows for school's to rebuild their culture and climate since you don't have any students who have already known norms," mentioned Dr. Perera
On the direction of fully returning to in person school this upcoming year, it's become clear when speaking with teachers and administrators that a change in curriculum is inevitable and will ultimately shape our generation and the future of learning through an inclusion of culture and representation.
"I've worked in Texas before and it's all the same, ultimately ensuring students are getting what they need. The responsibilities are the same and it's a little bit of a smaller district than here, but Texas has a high accountability of state testing than Oregon, althoughI expect to have similar experiences and the district I'm going to is a highly rated district, so just as it's good there I'll work on building what's already in place," stated Dr. Perera.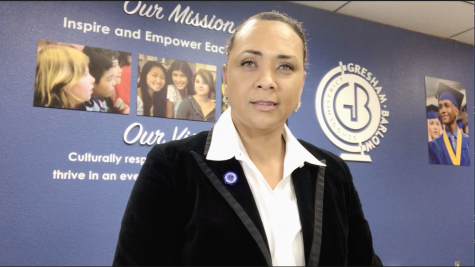 Throughout her employment in the Gresham-Barlow District, Dr. Perera has altered the mold of our curriculum, communication, and orientation through an advocacy of creating a strong leadership team, allowing students and parents to have a voice, and working alongside the state especially in this last school year. From the success Dr. Perera has established in our district, she plans to do the same and uphold similar goals for the district of Lancaster.
"The knowledge and challenges our students have experienced during this pandemic will hopefully be lifelong skills that will help them thrive in a global community, and I'm super proud of our students that we have in our district that are moving forward and those that are prepping. To the staff that have worked tirelessly to ensure all students are cared for, safe, and have access to learning opportunities, truly they are the heroes of the success of this district. I am eternally grateful to the board for the opportunity to lead and to the community for the amount of grace and flexibility they've extended throughout my tenure," declared Dr. Perera.
Dr. Perera also encourages the future superintendent to know our community, the needs of the students, staff, and parents, while giving the leadership team an opportunity to grow and continue to look for ways to learn, adapt, and continue healthy communication. Leaving with a bittersweet farewell, Dr. Perera is eternally thankful for the love and support of our community, staff, students, and administrators. On behalf of the Gresham-Barlow District, we wish her luck on her journey to reuniting with family, friends, and to grow the community of Lancaster.