The Bruins are Back
Returning back to school creates dread for many students which makes football events more entertaining as students adjust their new schedules and get back into school spirit. There's a different atmosphere at each game, as the team settles into the game and the stadium roars with cheers. With last season limited to spectators, the Bruins are back and ready to create some chaos in the stadium.
"Coming off a challenging year from COVID, our entire team realizes how fast it can be taken away. As a group, we are always playing our hardest and not taking anything for granted. As a team we are hoping to reach our 'ceiling.' We have a strong team this year and we know we have a chance to put something special together. We also hope to bring unmatched physicality to our conference," emphasizes varsity captain, Yamato Uptegrove.
Several sport teams struggled last year without having the physical support of students, staff, and parents regarding spectator limits, making this year more memorable for each sport since the players are feeling more encouraged. 
"The energy with a student section is way different. Last year with an empty stadium it felt more like practice than a varsity level competition. Hearing the crowd go crazy when you make a great play is one of those things that you don't forget," mentions varsity captain Gavin Dow.
One of the greatest things about Barlow is our school spirit. Our community never fails to outcheer other teams disregarding the sport. Every new season has it's goals and improvements as the team works on creating a bond with returning teammates and incoming teammates, and with Coach Jackson continuing to learn Barlow's new dynamics as opposed to his previous leagues, our football team is using plays we've rarely seen before.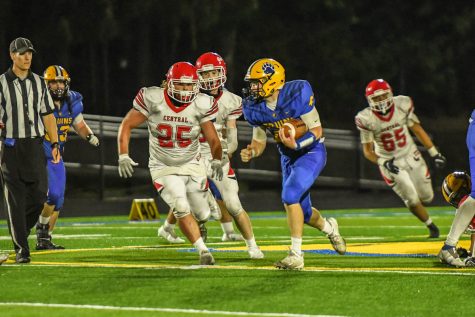 "We want to be competitive, compete for a playoff spot, but even more than that we want our guys to buy into our program, our values, and our philosophies are. Overall, most high school football is the same. It seems like the tenor of society, the values, and success needed are buried and are similar. Sometimes they're more valued and sometimes they're not valued as much. It's dependent on society. I hope we can maintain the same values that make football great, no matter what's going on around us," indicates Coach Jackson. 
Although it's one of Coach Jackson's first few years as Barlow football's head coach, he's teaching his team new techniques and plays that defies the normality of high school football, and demonstrates the individual strengths and values our team offers. Several varsity captains mentioned introducing a classic "smashmouth" energy this season.
"Our team bond is unlike any other. Many of us have played together since the youth level, so we like to constantly push each other to improve. Coach Jackson consistently pushes the team to form stronger bonds and eliminate any potential drama within our program, which has ultimately bonded the team more," states Uptegrove. 
A sport that averages putting in about 15 hours a week plus gameday, friendships are permanently bonded, especially when growing up playing together, like most of the team has. Coach Jackson continues to distinguish the importance of a brotherhood on and off the field as it defines the importance of each season's progress.
"If I could give any advice to my team, especially seniors, don't waste a day. Enjoy the process because when it's over, it's over. When you're old like me you still look back with fond memories and desire to play again, so don't take any day for granted," states Coach Jackson.
Sports only have a certain amount of years in each athlete's life and as each year passes and seniors play their last seasons of high school football, it's important to remind our teams of their impact on our community. When attending games this year, remember to be loud and lose your voice. Each sport team is working to make Barlow's community proud and support makes every difference.