After Almost Two Years, Dance and Cheer Are back to Competing
As we make our way into February, Sam Barlow's Cheer and Dance teams have been representing Barlow in competitions. Barlow's Dance team has had the opportunities to dance at halftimes for football and basketballs, have daily practices, and even compete. Barlow Cheer's JV and Varsity teams have practiced, cheered on the sidelines at football and basketball games, and have also started competing recently.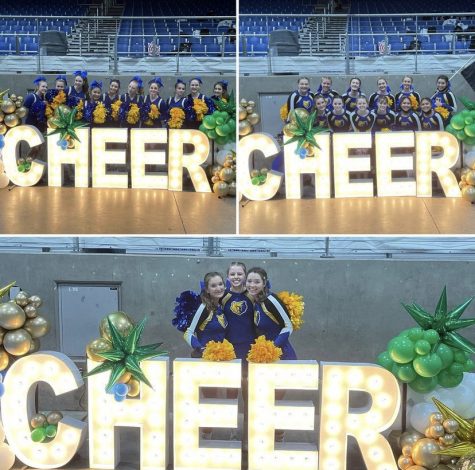 The last time Barlow Cheer was able to compete at a competition was almost two years ago. This year, Barlow's Varsity Cheer team has competed in five local competitions and placed in the top five in the varsity division at three of those competitions. Barlow's JV cheer team competed and placed second in the JV division. At the last cheer competition of the season, which was OCCA's Cheer Championships in Salem, Oregon, where Varsity placed fourth. 
Barlow's Dance team has been to competitions this year as well. The dance team has placed second and third at some of these competitions and has had many athletes place in the top ten in drill-downs, which is a competition within these competitions to practice marching commands where the last person to improperly execute a command wins. Sophomore, Natalie Weed, has only been on the team this year and says, "next year, I hope we are able to experience all of the things we were not able to do this year." For most athletes, these past two years have been a hard time to be in sports with all the restrictions, and most hope for some form of normalcy next year.
  It is important that we recognize these athletes, as dance and cheer are widely seen as less of or not even a sport at all. In reality, these two female-dominated sports are just as demanding, and athletes put in as much effort as athletes in other sports. These sports have become more popular and have changed throughout the years, and recognizing them as a sport is just as important as recognizing male-dominated sports such as football. With the past two years being so crazy, athletes and spectators are hoping for a more normal year for sports next year. Although there are still many COVID-19 restrictions in place, athletes have been able to perform without a mask which has made things feel more normal.