Barlow Clubs from the Perspective of their Presidents
Distributive Education Clubs of America (DECA)
DECA is one of the clubs at Barlow that does not have a single president. Instead, they have a team of four vice presidents. DECA strives to bring recognition to business careers in a high school setting. Therefore, each vice president is responsible for a different aspect of business. Kyle Klinger is the vice president of Career Development, Micah Perry is the vice president of leadership, Madison Sorensen is the vice president of marketing, and finally Brandan Susi is the vice president of membership. With meetings once a month, and a state and international competition, most skills and topics are learned in Ms. Lamoureux's marketing classes. Junior Madison Sorensen states the club, "Prepares emerging leaders and entrepreneurs in marketing, finance, hospitality and management." Senior Kyle Klinger encourages new members to join, saying, "It is a great way to learn more business skills and learn how to be a more confident speaker with judges and others." Other vice presidents point out the great travel opportunities it provides, and how it looks good on college applications and resumes. Still looking for members, the club is open to students in Ms. Lamoureux's Marketing 1-2 class or above.
Speech and Debate
Looking for ways to improve your public speaking, writing and researching skills? Two year member and current president of the Speech and Debate team, Dustin Sadiq, encourages you to join. Meeting twice a week, the club teaches students to break their fear of public speaking by becoming more confident with their peers, and then attending competitions. These competitions take place at high schools and colleges such as Lewis and Clark and Stanford. With the ability to compete by yourself, or with another individual, the club builds a great community that supports you and your arguments you present. Open to new members, see Mrs. Wilczewski in room 103 for more information. Dustin Sadiq finishes with one last piece of advice, "If you are considering joining Speech and Debate you should 100% do it! You should at least try a couple of events and you will have a ton of help…We have just about everything for everyone."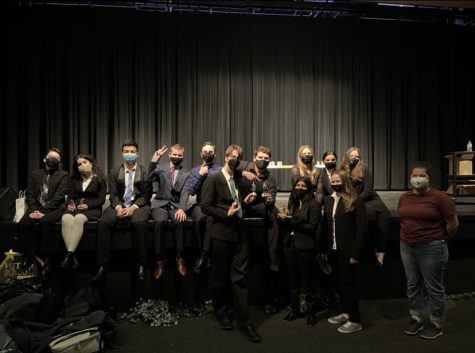 Key Club
Key Club was created around the idea of students volunteering and helping their community. President and junior Kylie Ihrig is no stranger to the world of volunteering. As a member for three years, treasurer last year, and now president, she loves to help others in need. "The goal of Key Club is to reach out and help as many people as we can in our community," states Ihrig. She continues on by saying volunteering is one of her many passions that make her, and others feel good. Always open to new members, Ihrig welcomes you to join, even if it's to look good on college applications. Key Club meets once a month and takes part in school clean ups, helping teachers, and going into the community to pack food boxes for those in need. See the club advisor Mr. Peters in room 211 to sign up or for more information.
National Honors Society (NHS)
National Honors Society members are chosen by teachers from a pool of upcoming juniors and seniors. The goal of the NHS is to improve leaders in the school and community. They do this through community service and volunteering events such as tutoring fellow peers, or making dog toys to donate to local shelters. In addition to this, Mrs. Pate, the NHS advisor, holds meetings once a month to ensure all members are on track with the required amount of 12 hours of volunteering per semester. This year, the co-presidents are Anna Tercek and Izzy Zielinski, with vice president Joanna Guilleux. Guilleux emphasizes that, "Academics and volunteering are very important to NHS, but that doesn't mean we can't have fun." Although no more members can join this year, next year's members will be chosen from juniors and seniors with a GPA of 3.5 or higher.