Sugar Cookie Recipe/Taylor Swift Chai Cookies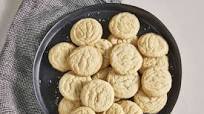 This sugar cookie recipe is super good and only takes about 30 minutes to make! It makes about 4 dozen cookies. Whether it's for a party or a picnic, sugar cookies are a perfect item to bring with you. You can decorate them with icing and shape them to any design you want using a cookie cutter.
Ingredients:
2 ¾ cups all-purpose flour

1 teaspoon baking soda

½ teaspoon baking powder

1 cup butter, softened

1 ½ cups white sugar

1 egg

1 teaspoon vanilla extract
Directions:
Preheat the oven to 375 degrees F (190 degrees C).

Stir flour, baking soda, and baking powder together in a small bowl.

Beat sugar and butter together in a large bowl with an electric mixer until smooth. Beat in egg and vanilla. Gradually blend in the flour mixture. Roll dough into walnut-sized balls and place 2 inches apart onto ungreased baking sheets.

Bake in the preheated oven until the edges are golden, 8 to 10 minutes. Cool on the baking sheets briefly before removing them to a wire rack to cool completely.
Icing Ingredients
½ cup shortening

4 cups confectioners' sugar

5 tablespoons milk, or more as needed

1 teaspoon vanilla extract, or more to taste

food coloring (Optional)
Directions
Gather all ingredients.




Beat shortening in a large bowl until creamy. Gradually mix in confectioners' sugar in small amounts, alternating with 5 tablespoons milk, until smooth. Mix in vanilla and continue to beat until frosting is stiff and glossy, about 5 minutes, adding more milk if needed.




Mix in food coloring, separating into smaller bowls if using multiple colors.




Spread frosting on cookies or fill piping bags and decorate cookies as desired.
What do I need?
Measuring tools
Measuring cup (wet ingrediants)

1 cup (dry ingredients)

½ cup (dri ingredients)

¼ cup (dry ingredients)

1 tablespoon 

1 teaspoon

Making the cookie dough
Other tools needed
Small bowl 

Large bowl (two if you dont want to reuse and clean out a bowl)

Pan 

Parchment paper

Whisk

Mixer (can also use hands to mix)

Spatula

Butter knife or icing bag (can also use a ziplock bag and cut a hole in it)
Taylor Swift Chai Cookies 
Ingredients 
For the Cookies
1/2 cup (1 stick) unsalted butter, at room temperature

1/2 cup vegetable oil (I like canola or sunflower oil)

1/2 cup (100 grams) granulated sugar

1/2 cup powdered sugar

1 1/2 teaspoons ground ginger

1 teaspoon ground cinnamon

1/2 teaspoon ground allspice

1/4 teaspoon ground nutmeg

1/4 teaspoon ground cardamom

1/8 teaspoon ground cloves

Pinch of fresh cracked black pepper

1 large egg

2 teaspoons of vanilla extract or the seeds of 1 vanilla bean pod

2 cups (250 grams) all-purpose flour

3/4 teaspoon baking soda

1/2 teaspoon kosher salt

Cinnamon sugar for rolling

For the Glaze:

1 1/2 cups (180 grams) powdered sugar

1/4 teaspoon ground nutmeg, plus more for sprinkling the top of the cookies

3 tablespoons whole milk or eggnog INSTRUCTIONS

Preheat the oven to 350 degrees F.  Line baking sheet with parchment paper.

Using a mixer fitted with a paddle attachment, beat the butter in a large bowl on medium speed for about 1 minute.  Add the vegetable oil.  It may not fully incorporate with the butter, but that's ok.  Add the granulated sugar, powdered sugar, and all of the spices. Beat to combine.

Add the egg and vanilla, beating on medium speed until completely incorporated.

Stir in the flour, baking soda and salt all at once using a wooden spoon or the mixer set on low.

The dough will be soft. Refrigerate the dough for 1 hour or freeze for 15 minutes just so it's easier to handle.

For large cookies, dollop 2 Tablespoons of cookie dough onto the cookie sheet about 2 inches apart.  For smaller cookies use 1 Tablespoon for each cookie.  Press the dough evenly with your fingers or palm to 1/4-inch thickness.  Roll each cookie dough in a small bowl of cinnamon sugar.

Bake for 12 to 14 minutes for larger cookies or 8 to 10 minutes for smaller cookies.  Let the cookies cool on the baking sheet for at least 10 minutes before transferring to racks to cool completely.

In a medium bowl, whisk together the glaze ingredients to thick but spreadable. Spread each cooled cookie with graze just over the center, leaving the edges of the cookie free of glaze. Sprinkle with a bit of fresh nutmeg if you have it. Store cookies in an airtight container at room temperature for up to 4 days.