Barlow Basketball Ends With a Bang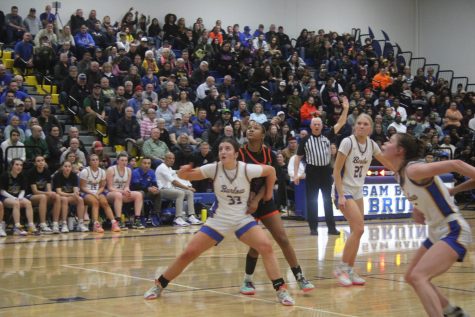 From February 28th to March 11th, our Varsity Basketball teams competed in the 6A state tournament and both placed 5th overall. Kennedie Shuler and Jalen Atkins earned 1st Team all Tournament, while Annie Koenig earned 2nd Team All Tournaments. Haidyn Sobella and Nate Forrar earned Honorable Mention in the Mt. Hood Conference. Jahvari Martino, Olivia Payne, and Rilyn Quirke earned Second Team in the Mt. Hood Conference. Mason Bierbrauer, Jalen Atkins, Kennedie Shuler, and Annie Koenig earned First Team in the Mt. Hood Conference. Javari Martino earned Defensive Player of the Year award. Jalen Atkins earned Player of the Year in the Mt. Hood Conference. Kennedie Shuler earned Player of the Year along with Clackamas' Jazzy Davidson.
The girls' first game was against South Salem, currently ranked 27th in the state, in which they won 60-41. Kennedie Shuler and Annie Koenig both scored 24 points. Rilyn Quirke attained two blocks. They advanced to the second round to play against the team ranked 11th , Benson, and the final score was 60-56. Annie Koenig scored 26 points, Olivia Payne scored 16 points and Kennedie Shuler scored 13 points. The boys team played 31st ranked Sunset on March 1st final score was 89-56 progressing into the second round March 4th against 15th ranked Sherwood where the final score was 81-73. They were able to make it to the Chiles Center at the University or Portland for the next games.
Both the girls and boys teams advanced to the quarter finals. The boys team played Mountainside where they had a thrilling ending where they had double overtime and beat Mountainside by one point with the final score being 73-72. Jalen Atkins scored 31 points. Mason Bierbrauer and Javari Martino executed 16 points each. Nate Forrar achieved six rebounds and Mason Bierbrauer got seven. The girls played 3rd in the state Tualatin final score being 37-32. Annie Koenig attained 16 points, Kennedie Shuler executed five steals, Olivia Payne accomplished six rebounds. Barlow was the only school for both boys and girls that have made it to the semi-finals.
The boys next game was against   Tualatin, ranked 3rd, the final score was 55-68 but they still played a really well and competitive game. Jalen Atkins scored 15 points, Jahvari Martino scored 13, and Mason Bierbrauer scored 11. Nate Forrar and Mason Biebrauer attained four rebounds each. The girls played 2nd ranked South Medford unfortunately they lost 33-71 Kennedie Shuler got 18 points and Annie Koenig earned 10 as well as seven rebounds. Olivia Payne and Rilyn Quirke got four rebounds each.
Even though an unexpected upset occurred for the boys they still had one more game to finish off the season against 4th ranked Lincoln sadly they lost 94-74. Jalen Atkins attained 28 points and Mason Bierbrauer got 18 they also got five rebounds each. Javhari Martino earned three steals as well as seven points and 3 rebounds. The girls had the opportunity to play Jesuit for their last game Annie Koenig with 18 points and Kennedie Shuler with 15 points and seven rebounds. Olivia Payne got six rebounds and eight points. The girls played a fantastic last game. Rilyn Quirke and Kenedie Shuler both got the opportunity to play basketball at the next level.
Although our beloved seniors are leaving we still will have some returning starters for the boys team such as, Jalen Atkins, Cole Patric and Cole Patrick. In spite of the fact that all of the girls starting team is departing, hope is not lost for the Bruins with returning players Kylie Ihrig and Maiya Hardy. Plus some sophomore stars that were swinging down to JV this past year. The future is bright for the Bruins.