Canby's Banned Books: A List of the Condemned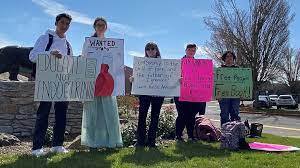 After two citizen complaints, Canby School District removed 36 books from its shelves. Completely foregoing the typical review process, these books were immediately removed from shelves in schools with no deliberation whatsoever. During a board meeting in October 2022, it was said that "…the process is tedious when a list of books [is] provided for reconsideration." Is the time of a few board members really worth the information that these 36 books hold?
Both students and parents alike are enraged by this decision which is sparking protests. According to KGW8, Canby High School senior Avery Keinonen says, "If we can make a statement and a stand against this and try to combat it, that's really important to me." Former CHS principal Jim Gadberry says that this decision might be limiting and that the district needs to think about what's best for all of its students. This decision begs the question, can a school just censor whatever it pleases with zero deliberation?
The books in question include books about LGBTQ lifestyles, sexual assault, and more. The subjects that some of these books deal with are important because they are real-life problems. Removing these books from the shelves won't stop any of these things from happening, rather, they will cause people who relate to suffer in silence, thus furthering this country's current mental health crisis. Limiting student access to read about subjects that could very well be affecting their lives fixes no problems, it just creates a lack of coverage on these topics. Censorship doesn't stop reality. 
Other districts, such as West-Linn-Wilsonville, also reviewed certain "problematic" books, but unlike Canby, they kept books on the shelves while the deliberation was happening. 
What board and community members are failing to realize is that most students have access to the internet, social networking sites, and television. These subjects are discussed without censorship all the time in other areas of students' daily lives, so why remove them in schools? How can something as integral as sexuality be deemed inappropriate for students who are already beginning to form their sexual identities? Just because you don't agree with the implications of a certain topic does not mean that it should be removed from the grasp of a certain age group. 
Banned Book List:
"My Friend Dahmer" by Derf Backderf
"Sold" by Patricia McCormick
"Heartstopper" Volume one by Alice Oseman
"Heartstopper" Volume two by Alice Oseman
"A Court of Mist and Fury" by Sarah J Maas
"A Court of Silver Flames" by Sarah J Maas
"A Court of Thorns and Roses" by Sarah J Maas
"A Court of Wings and Ruin" by Sarah J Maas
"Empire of Storms" by Sarah J Maas
"Allegedly" by Tiffany D. Jackson
"Monday's not Coming" by Tiffany D. Jackson
"Beloved" by Toni Morrison
"The Bluest Eye" by Toni Morrison
"Beyond Magenta" by Susan Kuklin
"Breathless" by Jennifer Niven
"Crank" by Ellen Hopkins
"Impulse" by Ellen Hopkins
"Perfect" by Ellen Hopkins
"Eleanor & Park" by Rainbow Rowell
"Fade" by Lisa McMann
"Homegoing" by Yaa Gyasi
"I am Not Your Perfect Mexican Daughter" by Erika Sánchez
"Lolita" by Vladimir Nabokov
"Looking for Alaska" by John Green
"Me Earl and the Dying Girl" by Jesse Andrews
"None of the Above" by I.W. Gregorio
"Out of Darkness" by Ashley Hope Perez
"The Art of Racing in the Rain" Garth Stein
"The Handmaid's Tale: A Graphic Novel" by Margaret Atwood
"The Handmaid's Tale" by Margaret Atwood
"The Nowhere Girls" by Amy Reed
"The Perks of Being a Wallflower" by Stephen Chbosky
"The Truth About Alice" by Jennifer Mathieu
"Water for Elephants" by Sara Gruen
"Milk and Honey" by Rupi Kaur
"The Glass Castle" by Jeannette Walls