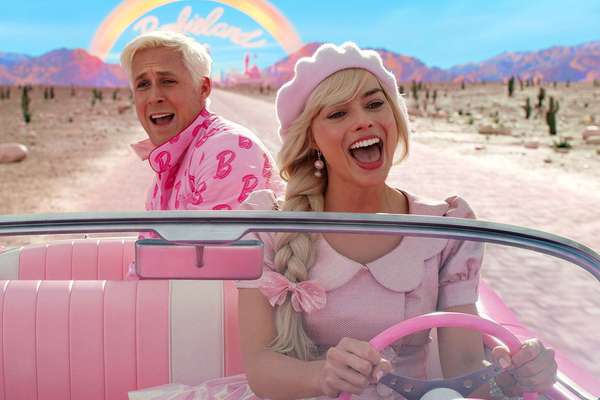 Because I am not normal, I went and saw the Barbie movie three times in theaters. Every time, I felt like I understood and appreciated the film more. Now, nearly two months after my first time seeing Barbie, I can conclude it's one of my favorite movies ever. I left the theater feeling incredibly happy and also reflective about the numerous deep messages Barbie conveyed. I went from laughing, to crying, to laughing, in less than 4 minutes. Here are a few reasons why I gleefully saw Barbie three times. 
The entirety of the Barbie movie was visually stunning. The amount of effort that solely went into the Barbie Dreamhouses is impressive, let alone the whole fantasy come true that is Barbieland. The thought process behind every detail is amazing. For example, there's a slide in Barbie's Dreamhouse, but Barbie (Margot Robbie) always just floats down to her car because kids only ever carry Barbie places. Another piece that pulled the Barbie movie together so well for me was the costuming. Every outfit felt so perfect and matched Barbie's energy perfectly. But not just for Barbie, Ken's (Ryan Gosling) costumes were also perfect for his character and the changes he went through in the movie. 
Contrary to some beliefs, I think Margot Robbie and Ryan Gosling were an amazing pair to play the iconic doll duo. They executed the roles in a way that can make you think they were destined to play Barbie and Ken. America Ferrara was astonishing in her role as Gloria, a mom drifting from her daughter who also helps save Barbieland from the patriarchy thanks to her impactful way of delivering words. Kate McKinnon embraced her role as Weird Barbie in a way that had the audience laughing hysterically, but also really spoke to women's souls. 
Unlike some people think, the Barbie movie wasn't a shallow movie solely about dolls and pink. Hidden beneath the humor that most definitely had audiences laughing, Barbie had various messages valuable to any viewer. One struggle Barbie tackled was the concept of purpose and existence. Barbie questions why she was created and how to deal with staying perfect and happy. Ruth Handler is the one who guides Barbie into choosing to live her own life instead of falling back into her falsely perfect life. The takeaway here is that even Barbie herself, the doll created to be perfect, isn't "good enough" for the standards set for women. It gives perspective to viewers about just how hard it is to navigate the world as a woman. 
Another all too realistic issue Barbie grappled with is the patriarchy, or the system society has normalized where men are put into positions of power and generally exclude women. After discovering the patriarchy and the ways it would benefit his life, Ken decides it's exactly what Barbieland needs and soon Barbieland is Kendom, and the Dreamhouses are turned into Mojo-Dojo-Casa-Houses. Kenland is a pretty accurate representation of real life society in which men push women around and women are expected to comply  with everything men decide. Thankfully, Gloria and her powerful words describing the unrealistic expectations women have to put up with, snap the patriarchy-brainwashed Barbie's back to their old reality where women run the world.     
The last prominent message in Barbie is the emphasis on not needing a significant other to feel happy, fulfilled, and successful. In the beginning of the film, Ken's life purpose is to have Barbie's approval and attention. However, Barbie doesn't reciprocate the romantic feelings Ken has for Barbie. By the end of the film, Ken learns that he doesn't need Barbie to say hi to him in order to have a good day. Ken can have other purposes in life instead of just existing for Barbie. This teaches viewers that you don't need a romantic relationship to be happy. 
To wrap things up, if you still haven't seen Barbie and you're on the fence, take the leap and go see it. I promise it'll be more than worth your time. The Kenergy from the film is unmatched.