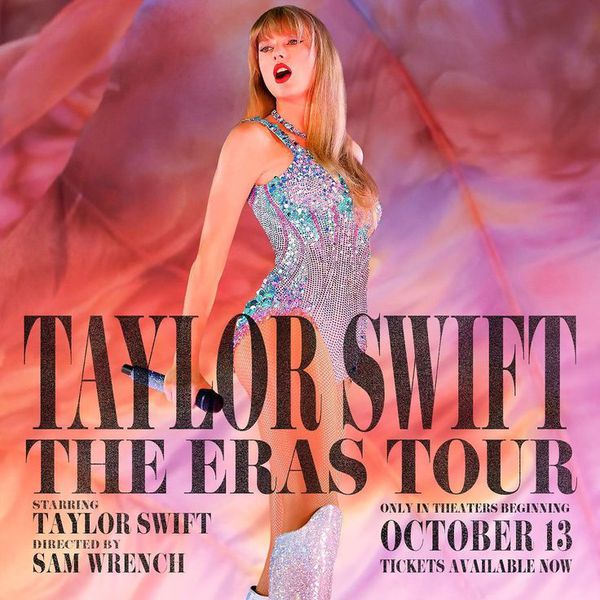 For many fans, getting tickets for Taylor Swift: The Eras Tour felt like the "Great War," so when Swift announced The Eras Tour Film, many fans were ecstatic to have the opportunity to see the concert, even if not in a real stadium. 
Swift took to Instagram on November 1st, 2022 announcing The Eras Tour. Fans were encouraged to make an account on Ticketmaster and to register for verified fan. If you were chosen to be a verified fan, you could participate in the presale where more than 14 million others anxiously attempted to get tickets. According to Ticketmaster, 3.5 million people registered for the verified fan program and around 1.5 million were given a unique access code. Leaving around two million other fans disappointed. With heavy site traffic, the Ticketmaster website crashed and made it very difficult for fans to get tickets. During this whole process, many fans were upset with Ticketmaster and how the ticket buying process went down. Many fans were not able to get tickets, leaving them to try to get them during the general on-sale. Unfortunately a few days later, it was announced that the general on-sale would be canceled, due to there not being enough tickets left. This clearly made fans very upset, as they now didn't even have a chance to try to buy tickets.
After concluding the U.S. and Mexico leg of the tour, Swift took to Instagram on August 31st, 2023 and announced the Eras Tour Film in North America. She stated that The Eras Tour has been one of the most meaningful experiences of her life and she is overjoyed to share that the film will be in theaters October 13th, 2023. She also goes on to state that she wants everyone to wear "Eras attire," make and trade friendship bracelets, and to sing and dance. Swifties were very pleased to hear this news, and many immediately bought tickets in preparation for the big day. Swift also announced that tickets would be $19.89 for an adult, and $13.13 for children and seniors. This made Swifties even more excited because of the small little easter eggs Swift provides. With a total run time of about two hours and 45 minutes, fans continue to speculate about what is going to be included in the film and what might have been held back, since the concert has a run time of about three hours. Fans also wonder what surprise song will be included in the film. Swift said at her first show in Arizona that she would play two new songs at every show and she would only repeat songs if she messed them up, or they were from her tenth studio album, Midnights. Since then, she has played six shows in LA, where the concert was being filmed, meaning only two of the twelve surprise songs will be included in the film.
The next time Swift is performing, she will be in South America and not only will the Eras Tour Film be out, but so will 1989 (Taylor's Version) on October 27th, 2023. Swifties are very excited for the month of October, and can't wait to see what lies ahead for Taylor Swift.