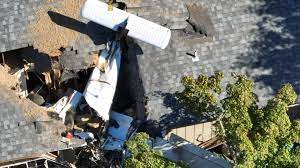 On the evening of Tuesday, October 3, 2023, a small plane crashed into a home in Newberg, Oregon. At around 7 PM, 911 received multiple calls about a plane spiraling downward and crashing near North Cedar Street in Newberg. Firefighters arrived at the scene to find a plane crashed partially inside a house and partially in the backyard. Firefighters searched the plane, finding two deceased persons and a third who was seriously injured. The third person was taken by a Life Flight helicopter to a Portland hospital. Nobody inside or around the home was injured during the crash. 
The occupants of the plane were later identified as 20-year-old Barrett Bevacqua, 22-year-old Michele Cavallotti, and 20-year-old Emily Hurd. They were all Hillsboro residents. Bevacqua and Hurd were student pilots at Hillsboro Aero Academy while Cavallotti was an instructor. Cavallotti and Bevacqua were found dead at the scene. Hurd was airlifted to a nearby hospital where she was still in critical condition as of Wednesday, October 4th. KGW was able to find some updates on Hurd from her mom's Facebook. "Her mother, who lives in Spokane, shared a Facebook post Wednesday morning saying Hurd was out of surgery and her spinal cord is intact." There are no other updates about her present condition.
Investigations are underway to find the cause of the crash. It was confirmed that the plane was a Piper PA-44 Seminole, a small twin-engine plane, on an instructional flight. They are still looking into whether the crash had to do with a mechanical issue, weather conditions, or something else. Sometimes pilots practice intentional stalls to prepare for emergency situations but it isn't known if this was the case for this situation and something went wrong. The National Transportation Safety Board (NTSB) will be examining all parts of the plane. It could take from 18 to 24 months before a final report is released about the crash.