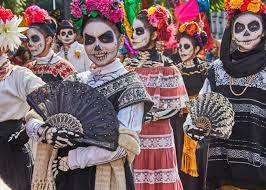 I'm sure that to most people, Halloween is one of those holidays that people just enjoy for the free candy and dressing up. But did you know that around the world, Halloween is completely different from just staying at home while binge-watching horror movies and stuffing your face with candy?
Lots of different countries around the world have their own traditions for Halloween. For most places, it is a huge part of their culture. For example, Mexico and other Latin countries celebrate Dia de los Muertos which is about spending time with family and friends while visiting loved ones' gravestones and offering them different foods and flowers. This is a very big part of their culture as well since they look forward to this day. However, on the other side of the world, we have Japan who celebrates Halloween by dressing up as zombies while throwing parties and parades. 
Europe has its own set of traditions. Ireland and Scotland have their own holiday called Samhain which is a celebration marking the end of harvest season and starting the winter season. This dates back to Gaelic celebrations. Another tradition is Ognissanti, which is celebrated by Italians. This is a day when children and other people dress up as their favorite saints and throw parades. This can also be a day to spend with family and friends exchanging gifts to one another. 
I think it's fair to say that no matter what tradition you celebrate or where you celebrate it, Halloween can bring people together to celebrate and have fun. It is a day for people to enjoy themselves and have fun while spending time with their loved ones. The real question is this: how are you going to celebrate your Halloween?