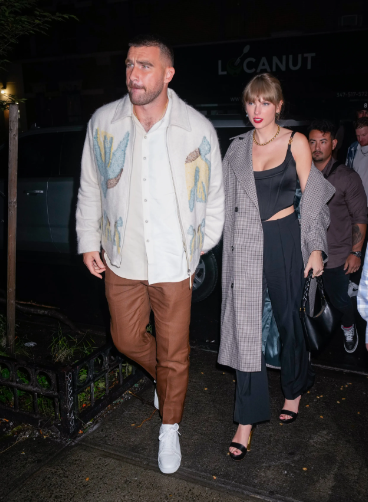 After Taylor Swift was seen at the Kansas City Chiefs game against the Chicago Bears on September 24th, Swifties everywhere lost their minds because she was watching the game for one player in particular, Travis Kelce. Kelce first showed his interest in Swift when he attended The Eras Tour at Arrowhead Stadium on July 8th, 2023, with his friend and quarterback of the Chiefs, Patrick Mahomes, and Mahomes' wife, Brittany. Kelce made a friendship bracelet for Swift, like all the other concertgoers, but on his bracelet, he put his phone number. Kelcesaid later in his podcast, New Heights, with his brother Jason Kelce, that he was a little butt hurt that he didn't get to hand her the bracelet he made her and that he took it personally. Jason followed up by making a joke about how she might still have been upset about the Super Bowl because she is a big Eagles fan, and they lost. 
After the podcast episode aired, not much was talked about between the two until Swift made an appearance in the Kelce box at the Chiefs game. She was seated right next to Donna Kelce (Travis's mom) and was wearing a red jacket, a white tank top, and black shorts. In the third quarter, Kelce was able to show off by catching a touchdown making the score 41-0. Swift celebrated by jumping, smiling and cheering. Mahomes and Kelce looked up at the box, all smiles, while Swift celebrated. After the game, the couple left in Kelce's convertible, which Swifties called the "Getaway Car." 
A picture was posted of Swift at the game with chicken tenders, ketchup, and ranch. A fan account dedicated to Swift, decided to post the photo and call the ranch, "seemingly ranch." Going viral, many large companies joked about creating products and calling them "seemingly ranch." Walmart made a post of an aisle in their store titled "seemingly ranch." Other companies use Swift as a marketing strategy and post group Halloween costume ideas: a chicken tender, ketchup, and "seemingly ranch." The NFL has begun using Swift's appearance at their games as a way of pulling in more viewers, making their Tik Tok bio "Taylor's Version," and advertising the Chiefs vs Jets game with the background music "Welcome to New York," by Taylor Swift. Companies all over use Swift as a way to pull more people in, as she has an influence on so many people's lives. 
Swift and Kelce have now started to appear more in public. On October 14th 2023, they were both seen walking in New York holding hands as they went to crash Saturday Night Live. Swift introduced Ice Spice, and Kelce made a cameo at the end of a skit about Swifties and football. TMZ later reported they were at a dinner date holding hands and seen again the next day out and about in New York holding hands, and looking very happy. 
While football isn't everyone's cup of tea, a whole new demographic of people is being reached  because of where Taylor Swift goes, who she sees, and what she does.