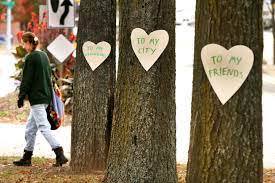 On October 25th, Robert Card shot and killed 18 people and injured 13 others during a shooting spree in two different locations in Maine. Following the massacre, Maine police and the FBI conducted a massive manhunt for the suspected gunman. The FBI cleared the suspect's last known address while looking for any evidence that would indicate the plan to carry out the attack. Card was facing eight counts of murder and was considered armed and dangerous. State and local investigators searched Card's car Thursday night. During this investigation, they found a firearm in the car, but they are unsure if the firearm was connected to the shootings Wednesday night.  Local law enforcement urged citizens to remain diligent as they continued their search for suspects. Many schools remained closed Friday due to the suspected gunman still on the loose. Two days later, Card was found dead from a self-inflicted gun wound. Firearms that were recovered from Card's car and body were found to have been bought legally. In the days following the shooting, police gathered information on his firearm purchases and transactions, including ammunition.
More details have been released about Card's declining mental health and why he may have targeted the bowling alley and the bar. Card's brother told police that he had recently been in a relationship with someone he met at a cornhole competition at Schemengees Bar and Grille. Card's brother went on to say that since the relationship had ended, Card had started wearing hearing aids and "had been saying crazy things," the arrest warrant affidavit stated. One search warrant affidavit stated that his ex-girlfriend had two daughters and that when he would take those daughters out to eat, he had thought people were looking at him and calling him a pedophile. Card claimed "people were out to get him," the affidavit stated. Family members had told authorities that Card thought there was a conspiracy against him, and businesses such as Schemengees and Just in Time Recreation were broadcasting online that he was a pedophile. Card's family mentioned trying to help Card with these thoughts, but Card could not be reasoned with. 
The state of Maine has a yellow flag gun law, which is a watered-down version of the red flag gun law adopted by 21 other states. The red flag law allows family members to report the person who seems to be dangerous, and prevents them from purchasing or possesing any weapons.. Under Maine law, a person who thinks a family member is a threat to themselves or others must alert law enforcement, which would then take the family member into protective custody. From there, medical professionals would evaluate them to decide if they are a threat or not. Only then could a judge approve an order to remove firearms from that person. Many people say this is just too many steps. Card had been hearing voices for months at this point, according to his family, who had reached out to the police and army reserve as they got more concerned. Military officials had made several attempts to contact him in the months and requested police do a welfare check. Later, they conducted a check; however, no one answered the door. Maine is currently the only state to have yellow flag laws, and many in Maine want to change that to prevent tragedies like this one.
The close-knit community of Lewiston is a sprawling residential and industrial area, which is home to two hospitals and the private liberal arts school Bates College. Maine's governor Janet Mill, describes Lewiston as a special place. Mills said in recent interviews With CNN, "This city did not deserve this terrible assault on its citizens, on its peace of mind, on its sense of security. No city does, no state, no people." Many people in Lewiston will be forever changed by this event.