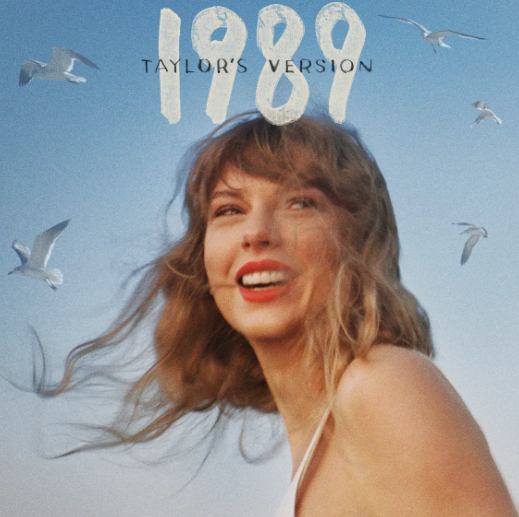 There is no doubt that Taylor Swift is one of the biggest pop stars in the world right now. From her enormously successful Eras Tour to her most recent re-recorded album 1989, Swift is at the  top of her game. From a special announcement at the Eras Tour in LA, to five additional songs, and the numbers that came from the release date, it's safe to say that 1989 (Taylor's Version) is bigger and better than before. 
1989 was first released on October 27th, 2014. Immediately it debuted at number one on the Billboard Hot 100 Charts, and "Shake it Off" claimed the number one spot and spent 11 consecutive weeks at number one. 
Swift left little easter eggs for Swifties to find and try to figure out when she would announce her version of 1989. By dropping hints in music videos, Instagram posts, outfit colors, and more, Swifties successfully guessed when she would be announcing the re-recorded album. On August 9th, 2023,  Swift walked on stage in a blue Speak Now dress and the fans went crazy. Blue had been chosen as the color of the 1989 era, so when she came out in a blue dress for an album that wasn't a blue color, fans freaked out. Throughout the night, Swift also wore a number of blue-colored outfits including variants of the Folklore dress, a surprise song dress, Midnights t-shirt dress, and the Midnights sparkly leotard. The outfit that got the biggest reaction from the crowd was, of course, the 1989 blue two-piece set. Since this album's color scheme is blue and the fans had yet to see her in a blue outfit for this era, it was a big deal to see her come out in the sparkly blue outfit. 
After the conclusion of the 1989 set, Swift talked to the crowd for a bit before playing two acoustic surprise songs that are different at each show. At this particular show, when Swift walked out while holding her guitar, she said, "You might have noticed there were some new outfits on the show… There's something I've been doing for a really, really ridiculously, embarrassingly long time. I think instead of telling you about it, just sort of show you." She turned around looking at the screen behind her that displayed 1989 (Taylor's Version) would be coming out on October 27th, 2023. After the screaming started to settle down, Swift began to play "New Romantics," a fan favorite from the 1989 album. Swift concluded this exciting part of the night by playing "New Year's Day," another fan favorite from her sixth studio album, Reputation on the piano. 
After Swift announced her new re-record, she took to Instagram to talk about the album and announce five new "from the vault" songs. These are songs that were originally written at the same time as the rest of the album, but didn't make the final cut. That is until Swift decided to re-record her masters and decided to throw in some new music as well. Swift described these new songs as "…so insane. I can't believe they were ever left behind." She also stated that this was her favorite re-record and couldn't wait for it to be out. While she didn't announce the track titles of the vault songs, she did leave Swifties a little surprise on Google. 
If you were to search "Taylor Swift" on Google during the week of September 20th, a little blue vault would appear in the corner. If you clicked on it, different word puzzles would be available for you to solve to "unlock the vault." Individually you could solve a total of 89 puzzles, out of the 33 million that were assigned to the Swifties as a whole. After around 19 hours, the vault was unlocked and the track titles were released for four of the songs, "Say Don't Go," "Now That We Don't Talk," "Suburban Legends," and "Is It Over Now?" The fifth song "Sl*t!," would be released when Swift released the whole tracklist.
A little over a month later, 1989 (Taylor's Version) hit streaming services everywhere and once again crashed multiple different streaming platform apps. 1989 (Taylor's Version) is now the top-selling album in America for 2023 and has topped the Billboard 200 charts. It has also surpassed the original 1989 album in first-week sales, making it her biggest album in first-week sales according to The Hollywood Reporter.
Even though Swift has only two albums left to re-record, there is no telling what she will do next.