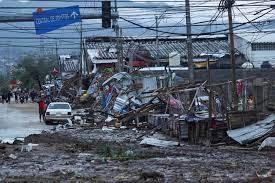 Recently, a tragedy struck in Mexico and has affected the country as a whole, but more importantly, hurt the people of Mexico. Hurricane Otis, which recently hit its peak in Mexico, hit Acapulco on the Pacific coast of Mexico. It was reported by the news that the hurricane hit a category 5, which is extremely dangerous being that it is the highest level of hurricanes. The Mexican government said that the hurricane got so bad that it hit winds up to 115 miles per hour.
On October 31st, the government of Mexico reported that the dead or missing toll was nearing 100 with 16 bodies having been found. This was extremely heartbreaking to the people in Mexico since this split families up, with many people missing and trying to find their families. Currently, Mexico is trying to recover, but the hurricane has impacted the country as a whole. 
Recently, the hurricane has changed directions a bit and has gone for the Southwestern coast, causing even more damage in cities, roads, and communities. There have been extreme levels of weather change like winds picking up to speeds of 265 kilometers per hour or 165 miles per hour, which is one of the highest wind speeds ever recorded in history. Acapulco has been through catastrophic damage because of the hurricane. While there have been more people who have been recovering from the hurricane there are still thousands of people without electricity, water, and houses. According to the NOAA, there have been around 10,000 utility poles destroyed because of the weather which is one of the primary reasons as to why thousands of people are without power. They have made estimates that around 45 people have died. People in the area have come out and said that in the area alone there are nearly 10,000 people who live there suffering from what has happened to their houses. The good thing is that disaster relief committees have come to help the people in the area.
There have been constant updates on how Mexico is doing to supply the families who have been affected by the hurricane and floods. The people of Acapulco have been desperate for help from the Mexican government. One of the main concerns the people had was that the government would rather focus on the infrastructure and making sure it looks good for tourists or foreigners instead of helping the people in desperate need.