COVID doesn't stop Barlow sports
This year, many sports didn't get to play due to the pandemic, but one sport that did get to play was football. This season was not the easiest for them since it wasn't the same as last year, but they all did amazing.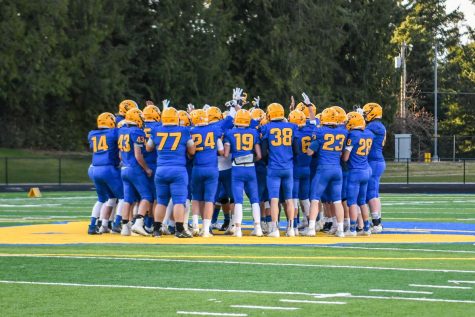 Sam Barlow was one of the last school districts to agree to play football this season, but the players did not use that or any hardships they faced as an excuse. "I was so proud of our players and the entire coaching staff for what we were able to accomplish this season. They stuck together, supported one another during challenging times and demonstrated what it means to be a true Bruin," said Coach Koenig. They were able to play six games and they had less than 2 weeks to prepare and instead of the student athletes feeling sorry for themselves they just went straight to work. 
The most difficult part for them this season was the district leadership's decision not to let any of the athletic teams use equipment or stand within 6 feet of each other during training. The best thing for them was getting to have a season. Our district's two teams, Gresham and Barlow were two of the only five 6A teams who did not initially agree to play 11 vs. 11 full contact football, and 42 other teams across the state were prepared to play. Coach Koenig then went on to say,  "Our entire football staff is grateful to the Barlow community for their tremendous support for all sports, including football. I'm so proud of the leadership shown by our 10 seniors this season and with them each the very best in their future endeavors." 
"Our football team showed a lot of persistence and strength as they worked through an uncertain start of their season and then showed steady improvement as a team as they competed," Dan Dalzell said, and then he went on to say, "They played Central Cathlolic as well as anyone in the state this season, having a chance to take the lead with a drive in the fourth quarter. Coaches and players all pulled together and made the very best of a difficult year." 
Right now the teams that are competing are baseball, softball, boys and girls tennis, track and field, and water polo which is about 300 total athletes in sports right now. Currently, Barlow is in the middle of their Winter season with boys and girls basketball, swimming and water polo. Dalzell said, "Being involved in sports makes a huge difference in the health and wellbeing of our students. I would encourage everyone to find something you enjoy and get involved in."