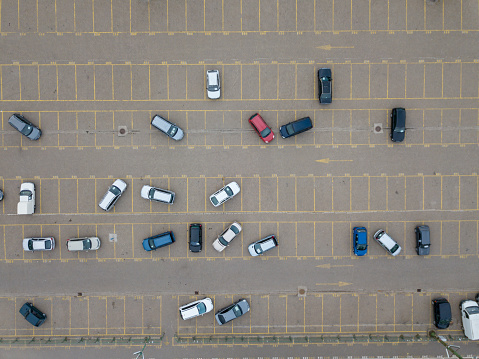 "Do you even know how to drive!?" is a question many Barlow students wonder as they try to file into the Bruin parking lot at 7AM. Nearly crashing into multiple cars, cutting a few people off, and parking in two different spots, a parking lot full of brand new drivers can get pretty nerve-wracking. To try and combat overcrowding and miserable traffic, Barlow gives out parking passes in the main lot and the annex to Juniors and Seniors who apply for them. No pass? No parking (Unless you enjoy fines and getting your car booted!). 
Your likelihood of getting a pass depends on a few different things. Priority goes to seniors, students with late arrival, students who attend a half day at CAL, and anyone with a zero period. The remainder of students, who are primarily juniors, get thrown into a lottery for the remaining spots. Many are given passes for the annex, which is located in the back of the school next to the baseball fields.  Sophomores who have a license are not usually allowed to have a spot. 
Safety in the parking lot is a big concern, and many students report feeling unsafe. Make sure to be extra cautious of other people and cars in the parking lot. Wait your turn when entering and exiting the main lot, follow speed limits and directional arrows, and look both ways for students crossing paths! The parking lot has a few unspoken rules that some students might not be aware of, like every other system for entering the lot.  Cars come from multiple sides of the building, but use the same entrance, so waiting your turn is essential. Students with annex passes should consider arriving early to account for the treacherous trek from the lot to the building entrance. 
Even the carefullest drivers make mistakes, so be cautious, and if anything does happen make sure to report the incident to student management and take responsibility for any damages (You may need to speak to your parent or guardian about different courses of action regarding insurance).
Especially awful drivers may want to be cautious. In previous years a 'Barlows Bad Parking' Instagram page was created to showcase some of the creative parking ideas. Driving on piles of snow, parked in 3 spots, and parked horizontally instead of vertically are surprisingly common occurrences. 
*Disclaimer*
*The author of this article has, in fact, crashed her car into a telephone pole, and no longer has a side mirror. She isn't very good at driving and her advice is a little hypocritical. She also has an annex parking pass and has almost zero experience with the main lot. She is also probably one of the worst parkers you have ever seen.
Drive, and park, safe Bruins!