The Lifting of the Mask Mandate- Is Covid Over?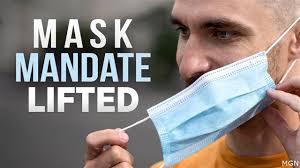 On April 3rd, both Oregon and Washington lifted their state mask mandates in health care settings. According to the Oregon Health Authority (OHA), "…health care facilities include hospitals, mobile clinics, ambulances, outpatient facilities, dental offices, urgent care centers, counseling offices, school-based health centers, complementary and alternative medical locations." This applies to workers, patients, and visitors. Those mandates have been in place since August 2021. When we think of Covid,  we automatically think of masks, so what does it mean now that we don't need to wear them anymore? Does the ending of these mandates mean that Covid is finally over?
Dean Sidelinger, a health officer and epidemiologist at OHA, has collected recent data showing a drop in COVID-19, RSV, and influenza cases. "Current data shows COVID-19 test positivity at 10%, influenza test positivity at 1.2% and RSV test positivity at 1.6% per antigen test and 3.5% per molecular test,"(KOIN 6). KGW8 reported that in December of 2022, these percentages were 12% for COVID-19, 24% for influenza, and 11% for RSV molecular tests. With the decrease in cases that this data shows, the OHA felt it was safe to lift the almost two-year-long mask mandate. However, the OHA makes it clear that those who do not feel comfortable without a mask, are more than welcome to continue wearing them. They advise that people who are at high risk of diseases continue to be careful. "OHA recommends people at high risk of severe disease and hospitalization, especially in communities with higher levels of transmission per the Centers for Disease Control and Prevention's (CDC) COVID-19 Community Levels, continue to wear masks in health care settings,"(OHA). 
Despite the lifting of the mandate, some health care facilities may still require masks to be worn when you're in their buildings. Many places that continue to require masks have some available to you when you enter. To be safe you can check health care facility websites before visiting to find their rules on wearing masks. Not only will places require patients and visitors to continue to wear masks, but some facilities also require their health workers to continue to wear them. 
COVID-19 cases may have declined but it's not exactly over. "The public health emergency may soon be coming to an end in the United States, but the COVID-19 pandemic is far from over, says doctors, epidemiologists and global health leaders" (KTLA5). No government or health official has the authority to announce that COVID-19 is no longer a pandemic and even if they did, there is no set definition of what a pandemic is. This makes the line of where a pandemic ends sort of blurry and hard to predict. The next phase would be when COVID-19 moves into the endemic phase. This is when the virus is still present but doesn't spread and put a strain on the healthcare system. Even though the virus isn't gone, people are regaining a sense of normalcy with the lifting of this mask mandate.