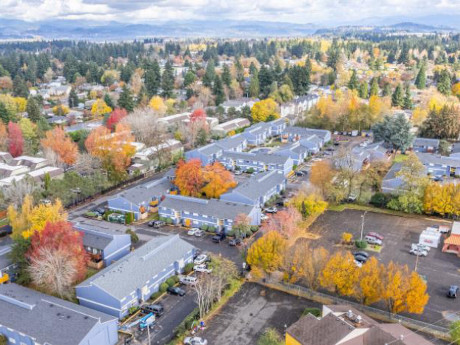 With all the recent tragedies happening worldwide, it's important to shed light on the more positive news. Consuming too much dark media is bad for anyone. So let's briefly shift our focus to happier news happening in our very backyards. From 2021 to 2022/23, Gresham has been on a positive slope overall in economy, safety, housing, financial sustainability, and community. Here's a rundown of Gresham's "report card" comparing 2021 and 2022.
Gresham's economy is thriving. In 2021, the average salary for a Gresham citizen was $70,461. It's now up to $74,571. As of October 2023, there are now 3,300+ commercial businesses, 39 food carts, 1,283 home-based businesses, and 277 independent contractors. Over 26,000 people in Gresham are employed. 
Gresham's community safety rates have gone up with crimes against people down 6.5% from 649 in 2021. The total number of traffic incidents in 2021 was 818 and is now down 42%. Safe Gresham is a community violence prevention effort between city leadership, Gresham Police, and the community. They take measures to increase community safety, address challenges, and support police officers. To name some of their big efforts, Safe Gresham has donated $5.2 million to fund safety and expanded Gresham's advanced camera usage in areas prone to criminal activity to assist with investigations. Safe Gresham has done much to improve our city's welfare.
Rental housing costs have improved for Gresham citizens with 60.5% paying over 30%, a step down from 61.6% in 2021. Though this number isn't drastically different, any improvement is still an improvement and should be recognized.
Gresham's community vibrancy has livened up since 2021 with 11 new public amenities and 126 community events, up from 83. With all these new events popping up, the Gresham community has more opportunities to get out and about to have fun with friends or family. Gresham's morale is improving. The most drastic shift between 2021 and 2022 was a whopping 10,300 new participants in recreational activities, up from 4,000. It's good to know that the residents of Gresham are getting out and being active. 
Lastly, Gresham has set in place a financial roadmap to support a higher quality of life. The goal is to fund a full-service city organization with the resources to deliver exceptional community services. It's set to span from July 2023 until June 2026. It's meant to support the police, firefighters, parks, and community development/livability. The road map outlines the revenue tools needed to reduce the projected deficit between revenue and expenses and to improve service delivery. The anticipated revenue total is $28.2 million over the next three years. 
To conclude, Gresham is on an upward trajectory and it's important to recognize that our city is improving, despite the last few years being rough all around the world. Remember to see the good.