The Newly Announced Disney Productions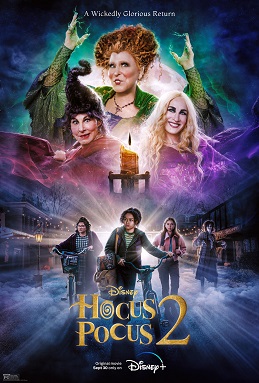 Do you like Disney movies? Of course you do, how could you not? Well I have some fantastic news for you: Disney recently announced at their D23 Expo fan event, September 9-11, in Anaheim, that 15 new and compelling films and shows are coming our way. They range from Disenchanted to Inside Out 2, to a live-action retelling of Snow White. Here's what we know about the D23 announcements.  
Hocus Pocus 2 has just been released on September 30 on Disney+. This sequel, after the first one which came out in 1993, starts out on a teenager's 16th birthday. She lights the iconic black flame candle and the Sanderson Sisters make their epic return to wreak havoc over Salem. 
Six years after the hit movie, a series version of Zootopia, called Zootopia+ will highlight some of the most famous shows and films in Hollywood history. So you think you can dance? Try So You Think You Can Prance and others in Zootopia+ releasing November 9th.
In Disenchanted, Giselle struggles through being a mother and having a "normal" life, making her question her so-called "happily ever after." It just takes a bit of magic for the fairytale shenanigans to set off. Starring Amy Adams, Patrick Dempsey, and Maya Rudolph, this sequel to Enchanted is spell-bound to entertain on November 24th.
In Strange World, a family of explorers who are famous around the globe encounter a new world full of dangers and adventure. They must work together despite their differences in order to survive their most perilous quest ever. Cast includes Jake Gyllenhaal, Dennis Quaid, and Gabrielle Union. 
May 26th, 2023 is a day to keep free because this is the The Little Mermaid release date. Halle Bailey and her heavenly voice take on the role of Ariel in the newest edition of Disney's live-action twists on the best classics. Even better, Melissa McCarthy is Ursula and Awkwafina is Scuttle. 
The iconic Haunted Mansion ride in Disney parks is turning into a movie again after the original was released in 2003. The star-studded cast includes Winona Ryder of Stranger Things and Freaky Friday's, Jamie Lee Curtis as Madame Leota. Also including Jared Leto, Rosario Dawson, Danny DeVito, Owen Wilson, Tiffany Haddish and other stars. Make sure to look out for ghosts on August 11th, 2023.
To my absolute JOY, Amy Poehler comes back for a new sequel, Inside Out 2. Riley, the film's protagonist, returns to theaters as a teenager, meaning new emotions will be thrown her way. It's set to be released June 14th, 2024. 
Joining the live-action remake list next year is Peter Pan and Wendy, a retelling of the 1953 and 2003 films. "Live-action adaptation of J.M. Barrie's classic tale of a boy who wouldn't grow up and recruits three young siblings in London to join him on a magical adventure to the enchanted Neverland island," (IMDb). 
Timon and Pumbaa hit the big screen again in Mufasa: The Lion King, a prequel that reveals Mufasa was an orphan before he was king. Old-school Disney fans will be sure to shed a couple tears. Sadly, we won't experience this until 2024. 
Eighty-five years later, Snow White has earned a spot in the live-action retelling category. Rachel Zegler, Golden Globe Award winner for best actress and Gal Gadot, who's been in many hit movies, star as Snow White and the Evil Queen coming in 2024. 
Not listed: Elemental (June 16th, 2023), Win or Lose (undated), Iwaju (undated), Wish (November 2023), Elio (Spring 2024).